Reviews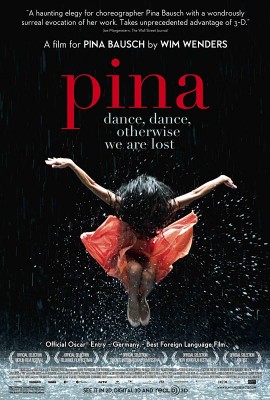 Genre: Documentary
Director: Wim Wenders
Cast: Pina Bausch, Tanztheater Wuppertal
MPAA-Rating: Rated PG for some sensuality/partial nudity and smoking
Release Date: December 23rd, 2011
Pina, the new 3-D movie about Pina Bausch, isn't a typical documentary detailing the highs and lows of her dance career.
This Oscar-nominated production merely explores one thing about the late choreographer: her legacy. Although Bausch may be well-known to those who have studied dance intricately, the name is likely an unfamiliar one to other viewers.
I didn't know anything about her until I was invited to the film's screening.  That being said, Pina delivers on what it attempts to do– it is an honorable and well-filmed tribute to a woman who changed the lives of so many of her students.
The history of the production of Pina is quite compelling. According to the film's website, director Wim Wenders originally planned to make a movie about the dancer and the work she was doing, and Bausch fully approved the production. That film– a story about her ongoing work– was canceled when she died unexpectedly during pre-production.
But the end of that film begot the beginning of another– one that honored the legacy of the late dancer.
Pina focuses on how Bausch influenced and supported the dancers she instructed. Some of these dancers speak directly to the camera about her style and approach. "She suddenly gave me a way to express myself," one dancer notes. After the individual interviews, these same dancers are seen through physical movements onstage and off, using routines that Pina worked on with them.
What's interesting though is how the interviews are set up. Viewers will see the individual dancer's and hear their voices but their mouths are not moving onscreen. A voice-over is heard instead. The concept emphasizes the fact that this isn't a story about dancers.  These performers aren't important– at least in this film– for who they are. They are important for what they do when they are exploring their art in the public sphere.
Early on, some of these dancers are seen in a little dollhouse practicing their art, and that scene framed the entire movie for me. Pina makes it feel like the identities of these performers only exist when they are doing what they love. And their ability to perform so gracefully was due to the hard work and dedication of their instructor.
As one dancer states, Pina "combined fragility and strength" and it shows as these dancers elegantly perform their interesting and thought-provoking routines.
Admittedly, Pina starts slowly and in one scene- where dancers take turns staring into the eyes of a Michael Bolton look-alike– viewers may question where the movie is headed. Once the story's pace becomes clearer,  viewers– especially those interested in the subject– will likely be entertained.
Regardless of its pace and the fact that no clear narrative defines it, Pina is a fine documentary about a woman who supported so many of her students. The film does go on unnecessarily with a running time of an hour and 43 minutes. It would have been better served if it had been cut down to a concise 80 minutes.
But for dance lovers and people interested in the field, Pina is a must-see. For others, it offers a glimpse into the serious world of dance and a woman who inspired so many to perform.
Review by: John Hanlon
Related Content